WELCOME TO METAPHYSICS MADE EASY
Metaphysics can be confusing to some people. Many have heard of it but not all truly understand what it is. Doing a search reveals metaphysics to be "the branch of philosophy that deals with the first principles of things, including abstract concepts such as being, knowing, substance, cause, identity, time and space." Although I like that definition, it isn't very clear. For the last eleven years, I have been trying to decipher the mystery of metaphysics. My goal is to help others understand it also. Having the honor of attending The University of Metaphysical Sciences (www.umsonline.org) has assisted me in this journey. I have gained much knowledge and two degrees. They have many topics ranging from Shadow Work and Transforming Personality to Connecting with Angels and learning about Archetypes. Their curriculum insured that my expertise would be vast.
I originally began these classes for intrinsic reasons; mostly to learn about meditation. These courses have been paramount in assisting me on the path to where I am today. I enjoy talking with other like-minded people who are interested in metaphysics. Sharing their experiences has taught me a lot. It was in pursuit of this that I found The Metaphysical Chapel of Life (www.metaphysicalchapeloflifenn.weebly.com) not far from where I live. I was surprised that I had not heard of it sooner and was sooo excited to have finally discovered it. I suppose I must not have been spiritually available to it until just at that moment. As always, the Universe provides things only when we are open to receive them.
Having been on the board of directors at the Chapel, I have been awarded the privilege of speaking and presiding throughout the year. We have a different speaker and presider each week which keeps it interesting as everyone brings their own different topic or view to the podium. This keeps the services interesting, entertaining and informative. Everyone is very loving and caring and it's always a pleasure to attend. I have acquired many new ideas and data from my fellow congregants.
Many of my friends ask me questions about metaphysical topics and I relish sharing my insights. It is because of this that I decided to start this blog. There are many topics I'd like to share. I'll be drawing from my individual experiences and stories, my speeches that I give at Chapel and also from papers that I've written in pursuit of both my Bachelor's Degree in Metaphysical Sciences and my Master's Degree in Divinity. I plan on uploading the videos that I've taken while speaking in case you would like to see the full topic.
I'll also be sharing a lot of interesting websites that I've found throughout the years that I enjoy. There are books that I'll review, and I'll check out different blogs and articles and share my opinion of them with you. I will be uploading videos of the speeches in their entirety if you would be interested in hearing more about that particular topic. I encourage comments, questions, and feedback. If there is something that you would like to be discussed I would love to hear from you.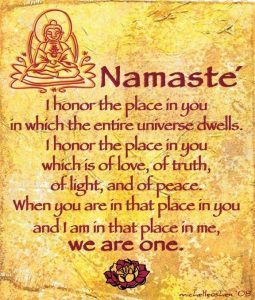 As this concludes this post I end by saying "Namaste" to you. Namaste is a respectful greeting or acknowledgment spoken with a bow and praying hands. Broken down the literal connotation is "Nama" meaning bow, "as" meaning I, and "te" meaning you, "bow me you" or "I bow to you." I have seen many versions of the following saying but this is the one that I use.